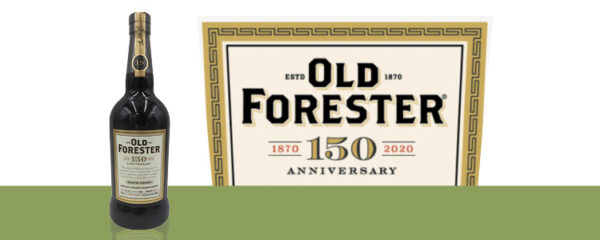 Win a Bottle of
Old Forester 150th Anniversary Bourbon!
Sells for $149.99…if you can FIND it! 
Get Your Chance Now!
$25 per Ticket
This limited-edition bottle tells the story of the brand's founding in 1870, with its commitment to quality and perseverance while surviving Prohibition, World Wars and changing consumer palates.
The winner of this raffle will receive: One bottle of Old Forester 150th Anniversary Bourbon
Old Forester 150th Anniversary Bourbon honors George Garvin Brown's original process, and represents a collaboration between Master Distiller Chris Morris and Master Taster Jackie Zykan. This expression consists of
150 barrels chosen specially by Chris, made from wood seasoned 150 days. Jackie then personally tasted and batched all 150 barrels into three very distinct flavor profiles and proof points showcasing the taste variations among barrels depending on where they rest in the Old Forester barrelhouses. The bourbon is presented in an amber glass bottle, reminiscent of the hand-blown glass of George's day and sealed in a commemorative keepsake canister.
150TH ANNIVERSARY BOURBON 50-BARREL BATCHES:
BATCH 1: 125.6 PROOF _ 62.8% ABV
OF150_A, BATCH 01_03: FRUIT BOMB
NOSE maple syrup and perfectly ripe orchard fruits, apricot and plum
MID açaí and black current
FINISH graham cracker, subtle peppermint, long well rounded spice, moderately dry
Drawing to be held at Big Spring Country Club after the Golf Tournament, Monday, June 14, 2021. Need not be present to win. Maximum 200 tickets sold.
KY. Dept. of Charitable Gaming EXE0001105