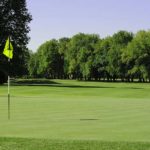 Join us Monday, June 14, 2021 for our Golf Tournament at Big Spring Country Club! Registration is open now, and you can learn more by clicking "Register Now"!
Proceeds of the tournament support the Patch's Educational Opportunities and Recreation/Youth Development Programs, with an emphasis on our innovative and successful College Scholar Program.
The College Scholars Program is more than just a financial scholarship; it includes a proven recipe for success: relationship building, tutoring, ACT training, mentorship, and college visits, with the goal of setting students up for success by helping them maximize their potential and remove the financial and cultural barriers students often face. If this sounds like something you'd like to support, contact us today to play!
---
We would like to Thank our 2019 Sponsors for their support!