Flower beds at The Patch received a seasonal face-lift from some enthusiastic volunteers recently. Fifteen associates from Wiley Education Services, one of the world's largest publishing companies, came from near and far to lend a hand in our outdoor space. This service project was one of many that Wiley has encouraged its employees to participate in across the globe, as the company observed Global Volunteer Month for the first time. One volunteer noted that there were more sign-ups for The Patch project than there were in some larger areas, like Orlando, FL and Tokyo, Japan. Observed annually in April, Global Volunteer Month was created four years ago by an organization called Points of Light, which describes itself as "the world's largest organization dedicated to public service."   
Wiley's work-at-home teammates were all-smiles while tilling soil and planting new foliage with our Cabbage Patch Facilities Team. Some said that they were happy to spend the day outdoors, while others expressed appreciation for the rare opportunity to collaborate with co-workers in person. The group was a mixture of kind souls based in Kentucky, with the furthest traveler commuting three hours to serve! Regardless of time and distance traveled, all the visitors jumped right into action that beautiful morning, eager to get their hands dirty in the name of giving back. One Louisville-based volunteer, Betsy, told us that her favorite part of volunteering that day was reconnecting with The Patch. "I love being reminded of the history [of The Patch]," she said. "It's been good to get out, especially because it's been a hard few weeks in Louisville."  
Alluding to the recent tragedies and ongoing challenges facing our city, Betsy and her teammates reminded us that we all have a role to play in making our community a safe space for all; and showing up is half of the battle. We appreciate the Wiley group, and all our amazing volunteers, who help to keep The Patch looking and feeling like that safe space for the children and families we serve.  
If you're interested in volunteering at The Cabbage Patch, please contact our Volunteer Coordinator, Chelsea Kilburn, at ckilburn@cabbagepatch.org, or (502) 753-4457.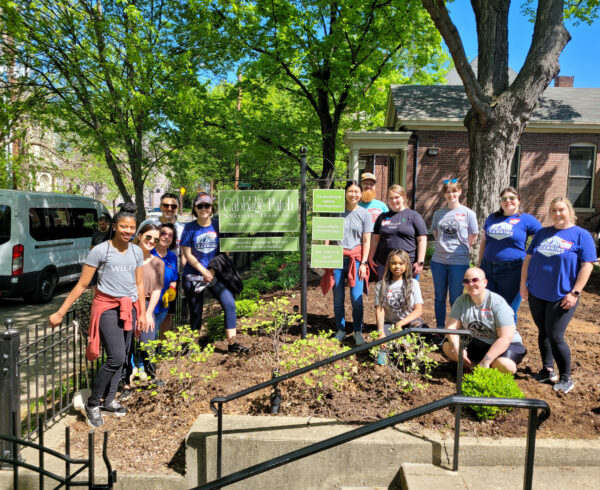 Want to stay connected?