The Cabbage Patch is a home away from home for many children throughout the week, but when the weekend comes, our members find themselves missing the gym, the art room and even the Educational Opportunities department! If your children didn't have a computer at home, or art supplies, or a green space where they could run and play, couldn't you understand their temptation to camp out in front of the television or roam the streets?
As part of The Patch's strategic planning, the Board of Directors and staff identified weekend programming as a high priority several months ago, but it wasn't until The Humana Foundation provided us with a grant that we could make the expanded hours a reality. We are thrilled to be starting the New Year with a resolution to engage current members and new members in purpose-driven activities six days a week!
We were excited to have Mayor Greg Fischer as well as Anthony Smith, Louisville Metro Director of Safe and Healthy Neighborhoods and Darrell Aniton, Louisville Metro Office of Youth Development, to help us kick off Saturday programming. As Mayor Fischer greeted our Patch participants, he exemplified The Patch's lessons of confidence and pride. When he shook each child's hand, he talked them through the proper way to introduce themselves and reminded them to clasp his hand with a firm grip. What a wonderful experience for the children, and very much in keeping with our leadership training!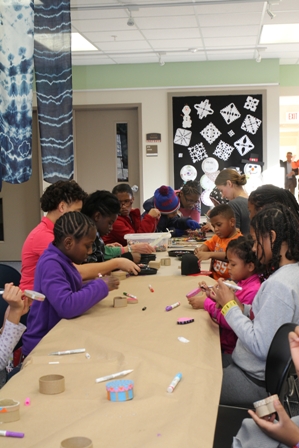 One of our long time participants and future college scholars read an original poem during the Saturday programming ribbon cutting ceremony, and he really captured the spirit of the afternoon with the following lines:
"We can't touch every heart around the globe,
But we can touch one kid,
In that kid there is a soul,
That soul contains a world and a heart,
We've been around 100+ and this is a good start…"
Do you know someone who would like to join us for Saturday programs? They can contact us by calling 502-634-0811. Membership is free, and The Patch is open from noon to 6 p.m. on Saturdays. Weekday hours are 3 p.m. to 8:30 p.m.