Imagine how exciting a camp adventure would be for a child who rarely leaves the city! Most of the young people served by The Cabbage Patch live in urban neighborhoods, and the outdoor experiences that they have with The Patch truly broaden their horizons. For the past five years, Tim Horton Camp Kentahten has generously provided a camp weekend for approximately 50 children of The Patch that includes a ropes adventure course, arts and crafts, archery and more – all at a state of the art facility.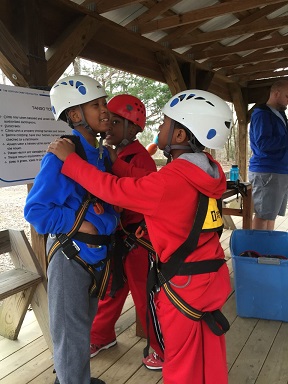 Recreation and Youth Development Specialist Matt found out that some of the most exciting camp moments happen after hours! While sitting in the boy's bunk house, teaching a few of the boys the finer points of how to win a Magic Card game, he was suddenly interrupted by dozens of female voices ringing out clearly, unified together in sharp contrast against the relative silence of the great outdoors.
"There ain't no flies on us!
There ain't no flies on us!
There might be flies on some of you guys, there ain't no flies on us!"
It was a surprise attack from the girl's from the bunkhouse down the hill!  They had just fired an unsolicited barrage of chanting as the first shot of the girls vs. boys chant-battle.
Cries of retaliation and were uttered from the boy's balcony, and everyone convened in the common space of the bunkhouse.  The peaceful game of Magic they had been playing was abandoned, and the boys bickered among themselves about what form their response would take.  A chant?  A battle cry? Sopping-wet, dirty socks tossed at the door?
A response was mounted, but it was poorly planned, executed, and performed. Suffice to say, it involved lots of boys tripping over themselves (again, figuratively and literally) as they retreated up the hill.
A truce was offered by their commander, Mr. Raz, to the leader of the Women's faction, Ms. Mayghin, which was accepted because it was 10 o'clock, and everyone needed to go to sleep.
Matt shares, "I learned a great deal from my first Camp with The Patch, but I think the boys also learned something.  They learned that when you're outnumbered 2-to-1, don't try to out-chant a bunch of the Cabbage Patch's finest cheerleaders and young ladies."
A good life lesson was learned for all involved…know the strength of your competitor and plan to match their level of commitment! That's the only way to bring your "A game!"