For many of the families we serve, Thanksgiving wouldn't be a very special day without the support of our volunteers! With budgets stretched to the limit in a season of high utility bills and holidays, parents find their resources spread thin.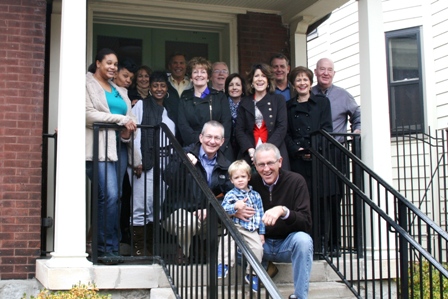 Groups like Christ Church United Methodist are a blessing for these families, as they provide the much-needed resources that many of us take for granted. The week before Thanksgiving, volunteers from Christ Church brought Thanksgiving baskets to The Patch. Many families at Christ Church will sponsor a whole basket, and a collection is taken in Sunday Sch0ol that covers a few additional baskets. The ValuMarket on Hurstbourne gives church volunteers a deal so they can stretch their dollars and help as many families as possible!
The packages were bursting with oranges, apples, cake mix, potatoes, Christmas candy and other fixings for a festive meal. To top it all off, each one of the 60 families that benefited from Christ Church's generosity received a ham to enjoy as the centerpiece for their table!
One mother who received a Thanksgiving bag is currently living in a homeless shelter with five children. She had just started a new job and was looking forward to a brighter future, but the first paycheck wouldn't be enough to cover a Thanksgiving dinner for six. Upon calling The Patch just to see if we knew of anyone around town who was distributing Thanksgiving donations, she was thrilled to discover that she could find her holiday dinner at the very place where her children love to play and learn! Without the generosity of Christ Church, this family would have had nothing special for Thanksgiving, but the generosity of the church assured not only their meal, but also an expression of God's love and goodwill towards others.