Beads, King Cake and red beans and rice can only mean one thing…it's Mardi Gras at The Patch!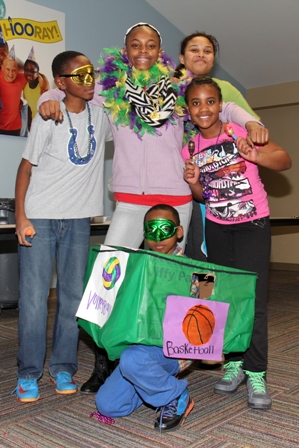 Recreation and Youth Development Specialist and Louisiana native Miss Candice brought a taste of New Orleans to Louisville with a variety of programming for our members. While children created their own floats, signs and costumes, they learned about the rich history behind Mardi Gras traditions. It all begins with the Twelve Days of Christmas, which count down from December 25. January 6, the first day following the Twelve Days of Christmas is known as the Epiphany, and the official start of Mardi Gras season.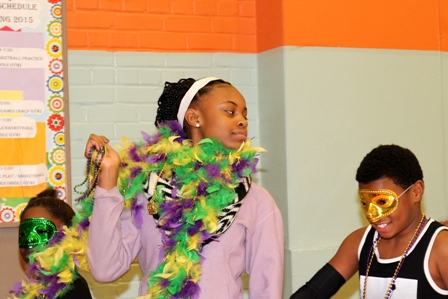 Mardi Gras is a season of abundance before the fast of Lent, and the children enjoyed talking about what they would celebrate before the solemn time of reflection. We had a very special visitor who helped us with some Big Easy-style indulgence – chef Dustin Staggers of Roux! He led us in a cooking tutorial peppered with Mardi Gras trivia, and when the red beans and rice were on the table, the children happily dug in!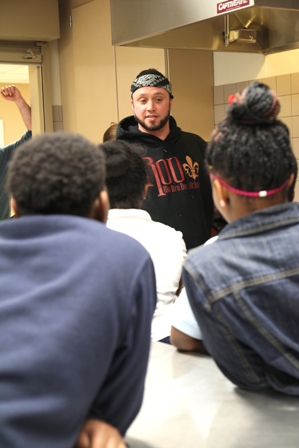 The official colors of Mardi Gras have roots in Catholicism and represent the royal colors of the Holy Trinity.  The modern symbolism of these colors reflects some of our values at The Patch. Purple, a symbol of justice, reminds us of the importance of being fair to others.  Green, representing faith, reminds us of the Christian values on which The Patch was founded. Gold, which signifies power, reminds us of the best way we can empower ourselves: education.
What do you celebrate during Mardi Gras' season of abundance?