The art room at The Patch is a bright mix of energy, color, and conversation. With walls decorated with inspirational quotes and students' creations, it's clearly a space where creativity thrives. While crayons and coloring books are always on hand for free time and fun, art projects at The Patch expose youth to a plethora of art forms, including drawing, painting, sculpture, and mixed media.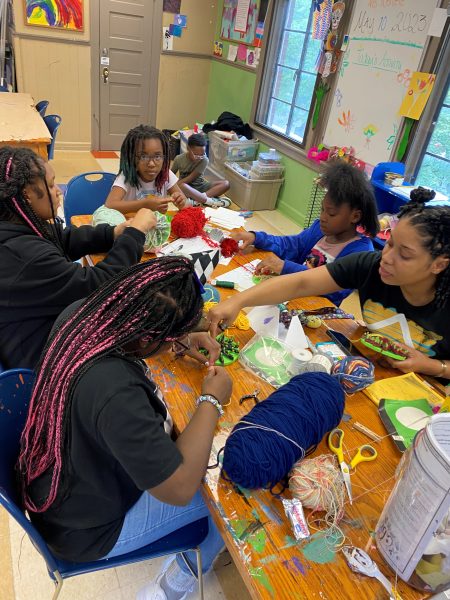 Our resident visual artist, Ms. Mackenzie, has been leading the program for a year and loves helping Patch kids tap into their creative side. When asked about her favorite part of teaching at The Patch, Ms. Mackenzie explained how it feels to watch students discover and develop their creative ability. "[I love] seeing the creations that they make," she said. "I also like pushing them further in their skills. Kids' imaginations are amazing." A chance to have their work featured in The Cabbage Patch Art Gallery or on the Artist of the Month wall incentivizes Patch kids to improve their craft and do their best. "Once they see their work in a clean gallery setting, they really feel good about it."
Of course, introducing students to new skills also includes pushing them through discouragement. When Patch kids say that they can't do something, Ms. Mackenzie doesn't hesitate to give them a boost of confidence. With patience and grace that young artists sometimes struggle to extend to themselves, she always responds with the positive reinforcement that they need to stay on course: "Yes you can, you just have to try." The impact of this encouragement is evident in students like Kelsey*, who started off doubting her art skills, but has since shown significant progress that has boosted her confidence in her work.
While finishing a recent painting project, several other Patch members shared what they like most about coming to the art program. Amina* said that the variety of projects is the best part, while Crystal* said that it's all about how the art space makes her feel. "It's peaceful and relaxing here," she explained. Even with creative freedom, responsibility and manners are still the top priority in the art space. Every student must follow the art room rules and clean-up steps during and after their fill of creativity. It's all part of The Patch's mission to teach youth the balance between responsibility and fun.
*Names changed to protect the privacy of those we serve.
Love learning about the activities at The Patch? Follow us on Instagram and Facebook for the latest updates!