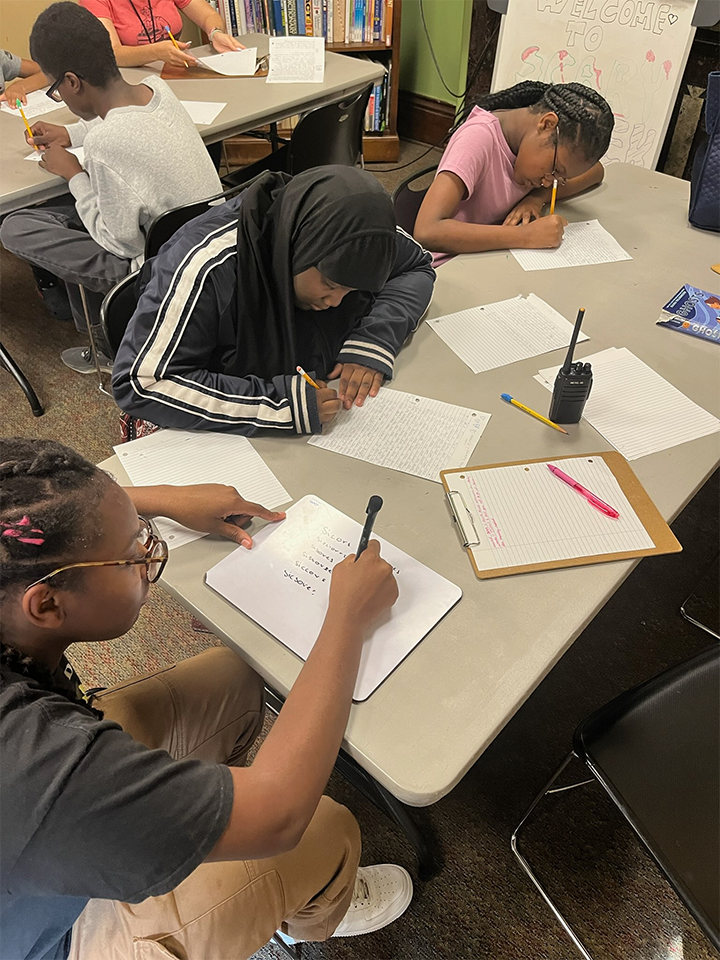 Most people would expect kids to steer clear of learning activities after school, but the complete opposite happens at The Patch! The Educational Opportunities Program offers members of The Patch several forms of academic support in a structured environment. Each day, students arrive to a space holding everything they need for academic success, including books, worksheets, dry-erase boards, and Chromebooks that are free to use. The walls are decorated with photos of Cabbage Patch College Scholars, a silent reminder for current Patch kids that college can be part of their future. Every day starts with homework help and tutoring, but even students who don't have homework are still encouraged to stop by. They choose two learning activities to complete from several options in the room, incentivized by the promise of a snack. The most popular activities are often math flashcards and 15 minutes of individual reading.
Halfway through the night, Patch members get a well-deserved break to enjoy a snack. Snack Helpers are chosen by the staff daily to help prepare the goodies with dual benefits; it's a fun task that also teaches our students' leadership, planning, and collaborative skills. Once everything is cleared away, the Educational Opportunities staff take a brief break to reset for the evening's enrichment activities. While students are still welcome to bring their academic questions, these activities are designed for relaxation and fun, with a little dash of learning in the mix. Just as in life, the Educational Opportunities program at The Patch teaches students the valuable balance between work and play.
One student who visits the Education space often is Imani*, a middle schooler and Patch member since 2018. She says that Educational Opportunities is her favorite program because she likes getting help with her homework. Smiling brightly, she explained that she is a second-generation Patch member. "My dad came here as a kid, " she said, " so as soon as I turned eight, he brought me to The Patch, too." Since then, Imani has been a frequent face, making Patch memories of her own. 
When asked about her favorite part of managing the Educational Opportunities program, Ms. Rachel gave us two: "My two favorite things are seeing the students' growth throughout the school year, and the collaborative environment we have as a staff." She grew emotional as she went on to describe how it feels to share in Patch members' achievements. "My favorite times of the year are when they bring in their report cards and graduation season. It's so wonderful to be a part of their success and to get the chance to celebrate their wins. It validates for the kids and for us that what we do makes a difference." 
*Names changed to protect the privacy of those we serve.
Love learning about programs at The Patch? Stay connected by following us on Instagram and Facebook!