Cooking is a great skill to learn, right? Who wouldn't want to impress their friends and family with homemade meals and gifts? At The Cabbage Patch, the kitchen is definitely a great place to learn, but we're not just talking recipes!
When you get a group of children together for cooking, teachable moments abound. Let's say we found a nice recipe that feeds four. What if we want to feed eight? How can we use math to adapt the measurements?
Sometimes we encounter an ingredient that is not familiar to us. Time for a little lesson in geography and culture! A child who is not familiar with Indian culture will delight in tasting curry, and will feel a connection to the region through food.
Cooking is also a great exercise in following directions! We instruct children to read the entire recipe before beginning so that they can be sure that they have all the ingredients and equipment needed. Baking in particular is an exact science that develops attention to detail-you wouldn't want to add a tablespoon of salt instead of a teaspoon, would you?
Any activity in the kitchen encourages teamwork and helps children explore their natural roles and strengths within the group. We recently worked together to create mini sweet potato pies, and the children were so happy with the final product that they wanted to share the recipe with supporters like you! This could be a nice activity to enjoy with the family, and it is simple enough that even smaller children can help, with supervision.  Please enjoy!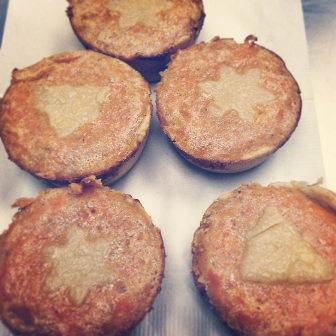 Ingredients:
1 package refrigerated pie crusts
1 cup cooked, pureed sweet potato
1 can (14 oz) sweetened condensed milk
2 eggs
1 tablespoon pumpkin pie spice
Preheat oven to 425 degrees.
Mix pumpkin, sweetened condensed milk, eggs and pumpkin pie spice in large bowl until smooth.
Pour into pastry lined muffin cups to the top. Top with a pastry leaf if desired.
Bake 15 minutes at 425 degrees, reduce oven temperature to 350°F. Bake 20 – 25 minutes longer or until knife inserted comes out clean.
Allow to cool 30 minutes in pan and remove to wire rack to cool for another  hour for pumpkin filling to set completely.