This year at The Delta Dental Cabbage Patch Auction, College Scholar Myrrakal Crawley shared her courageous story. As an integral member of The Cabbage Patch, Myrrakal is a true inspiration to young people as they work to maximize their potential.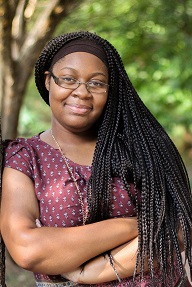 Read on for Myrrakal's speech:
Hello, my name is Myrrakal Crawley and it is truly an honor to be able to speak to you all tonight. I know this isn't an award or acceptance speech, but I always like to give thanks to God. I want to thank him for bringing me into this life and the Patch into mine. The Patch has been a big part of my life, but before I get into that I would like to give you all some background on me.
I started attending the Patch when I was six years old. I didn't really understand what it was back then, I just knew it was a place my mom would drop me off after school. I can remember coming in and immediately going to see Ms. Fish, a board member and volunteer who I often refer to as my other grandmother, and Ms. Morgan, who was in charge of the education department. If I wasn't in education you could find me doing art, playing on the playground, or doing yoga. I was there at the Patch almost every day. Like I said, I was six years old when I started, and I was THE cutest six year old you could ever imagine. I had a lot of teen-aged girlfriends who thought I was just the most adorable thing they laid eyes on. They watched over me and showed me the ropes, they included me in activities and were like my big cousins or sisters. I loved being at the Patch, and honestly, I would get a little sad whenever it was time to leave. But I always cheered up thinking about the next time I would be able to come back.
This changed when my mom passed away in 2007. I was seven, in the third grade, and my sister was five and in the first. My mom had a stroke while at her doctor's appointment. She survived, but the right side of her brain was damaged. She had to relearn how to write, speak, walk, and read. She was showing improvement after being put into a rehab facility, until she suffered another stroke that took her away. It was a tough time for my family. I was very young and didn't fully understand what was happening. But at seven years old I had to learn how to take care of, and stay strong for, my little sister and my nana, who has been my legal guardian ever since and is actually here today.
With the things going on in my personal life, I couldn't stay focused in school and lost all interest in having a social life. I stopped attending The Patch and almost failed my third grade year. Over the next few years, I attended The Patch occasionally. While staff I had known and built a relationship had gone, I still enjoyed the feeling of being in a familiar place. The Patch was always a happy place for me when I was little, so the little break from reality was always needed. Finally, during my Freshman year, my friend Janae, who is here today as well, encouraged me to start attending regularly again, since there was a school bus that dropped us off there. Since then, there's hardly a day where you can't find me at the Patch. Just like when I was young, I'm usually in Education. I'm involved in many programs there, such as Teen Leadership Development, Teen Club, and Step. The Patch has provided so many opportunities for me and many of my friends, some of whom you might've been greeted by tonight. I have been able to be a Counselor In Training for two years, in Education of course, and have been able to help the children, staff, and community. My time at the Cabbage Patch has given me so much more than I can express in just this speech.
My mom passing away is a challenge I will never fully overcome, but I understand now that I can't let that stop me from achieving great things that I know would make her proud. In seventh grade I decided that I wanted to become a Marriage/Family Therapist. It's been my dream ever since. The Patch has been great at supporting me and helping me get where I need to be. I know for sure I can trust them to continue that support for me, and give that same attention and care to my little sister, My'Kaylah.
You see, she looks up to me and I take care of her. We each got different aspects of our  personalities from our mom, so it's like having my mom there whenever we are together. We are all each other has left of her. I work hard for My'Kaylah and I try to show her that it is possible for us to succeed. I want to show her that she can do whatever she puts her mind to. I want to pave the way for her. I want to do this to show her that if I can earn a college education, she can most definitely do it too. I can't let myself slack, because I can't afford for her to. There's too much trouble out in this world and if I were to lose her, I'd lose everything. Getting a Cabbage Patch scholarship and going to college will help me prove to my little sister that she can make it in this world and be somebody, despite our past and our problems.
This is where you can help me to succeed. Next year, I will be attending the University of Kentucky. I will be one of 12 Patch kids all hoping to become Cabbage Patch Scholars, and all hoping to earn a scholarship that will help make college a reality. I want to know that every year my friends and I are in college, there will be a scholarship waiting for us. I want to know that when my sister graduates high school in 2020, there will be a scholarship for her, too. I want to know that when the Patch kids I've interacted with and tutored in my time as a CIT are ready, there will be scholarship money for them! Please consider donating here tonight, and supporting the current, upcoming, and future college scholars. There is so much power and potential in each of us, and your gift will help us share that with the world! Please make the choice tonight to invest in the lives of those who will have a heavy influence on the future.
I want to finally thank The Cabbage Patch Staff, my friends here. Special thanks to my nana, she's a major part of my life and without her I really wouldn't be here today. And of course, I would like to thank each of you for being here tonight and supporting the Cabbage Patch College Scholars. Thank you and God bless!