This Thanksgiving season, Oxmoor Auto Group, Progressive Insurance and The National Auto Body Council (NABC) teamed up through a nationwide community service project called Recycled Rides to repair and donate a refurbished car to a deserving local family. For the second year in a row, they reached out to The Cabbage Patch to find the lucky recipient!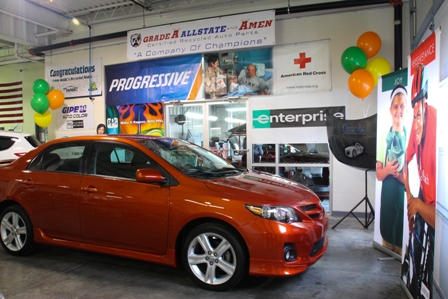 On Nov. 24, the Monday before Thanksgiving, the selected Patch Parent Feona waited with anticipation at Oxmoor Collision Center. She watched news crews walking past her, toward the site of the car reveal, and shared her excitement with the 2013 Recycled Rides recipient Stephanie. Feona and Stephanie were chosen for the Recycled Rides program because of their commitment to the Patch Parents program and their longstanding dedication to their children's development through The Cabbage Patch's educational, recreational and youth development programs.
When the time came for Feona to see her new ride, sponsor representatives, Board members from The Cabbage Patch and the Oxmoor technicians who donated their time to refurbish the car were ready to cheer her on. Feona took a seat in the front row and Del Farmer, CEO of Oxmoor Auto Group, welcomed the crowd.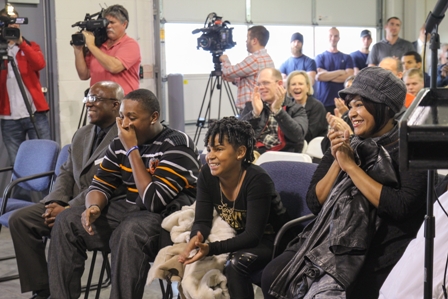 "Seeing the excitement of our Cabbage Patch family was so gratifying for all of us last year that we were more than happy to participate in the Recycled Rides program again." said Farmer.
A short program highlighting the generosity of the sponsors and the technicians preceded the reveal. Cabbage Patch Executive Director Tracy Holladay said, "You are not just giving the gift of a car. You are giving the gift of self-reliance. You are giving the gift of time."
When the tarp came off the 2013 Toyota Corolla, Feona and her children were overwhelmed! As the crowd applauded, they opened the doors, took in the beautifully detailed interior…and discovered they were in for yet another surprise! The trunk of the car was full of gifts from their holiday wish lists!
Over the past two months, employees at Oxmoor Collision Center donated hours of their time on weekends to make the once-damaged Corolla look sparkling new. Along with Oxmoor Auto Group, it took many sponsors to make the giveaway possible, including Enterprise Car Rental, Five Star Wheels, Gipe Automotive, Grade A, PPG Paint, Toyota Corporate and Acudent.
Feona told the crowd that she was so thankful that people who didn't even know her were willing to do this for her…and that her first stop will be at her Granny's so she can take her for a ride!