Good things do happen to good people. At least they do when Oxmoor Auto Group and a local team from Progressive Insurance are involved.
Two months ago, Progressive & Oxmoor teamed together through a nationwide community service project called Recycled Rides to repair and donate a recycled car to a deserving local family. Then they called The Cabbage Patch to see if we had a family we could recommend.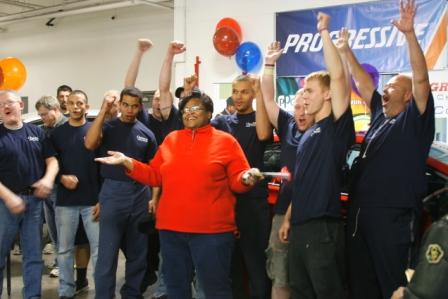 Stephanie is a hard-working mother to 11-year-old Aaliyah. For more than a year, Stephanie has struggled with problems with her 2001 Dodge Neon. With no air conditioning, a broken heater, and electrical problem that constantly drained the battery, the car was becoming undependable, and the costs to repair the issues amounted to more than the value of the car. Stephanie works diligently as a Certified Nursing Assistant at a local hospital, but the loss of reliable transportation could eliminate her ability to get to work and possibly jeopardize her job.
When The Cabbage Patch shared Stephanie's story, both Progressive and Oxmoor Auto Group knew they'd found the right family to be the recipient of their first Recycled Ride.
"You could not have picked someone more deserving. She needed this so badly. You have no idea how much you have changed her life."
Today, when Stephanie arrived at Oxmoor Auto Group's Collision Center, she knew she was receiving a car, but she had no idea it was a beautifully restored '12 Elantra.
Over the past two months, employees at Oxmoor's Collision Center donated hours of their time on weekends to make the once-damaged Elantra look sparkling new.
Del Farmer, chief operating officer for Oxmoor Auto Group, was on site with Tracy Holladay, executive director of The Cabbage Patch, to unveil the car.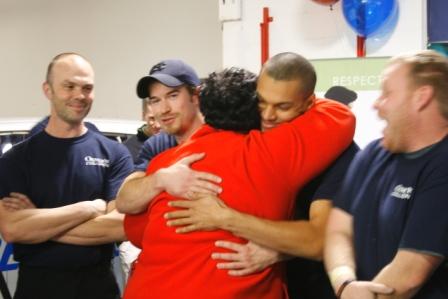 "I don't know what to say," Stephanie said when the ruby-red Elantra was revealed. "I cannot believe it. I cannot say thank you enough."
Stephanie's sister, Robin, was also at her side.
"You could not have picked someone more deserving," Robin said. "She needed this so badly. You have no idea how much you have changed her life."
Through the generosity of Oxmoor Auto Group, Progressive Insurance, and Enterprise Rent a Car, Stephanie and Aaliyah were also provided with gas gift cards, food, and clothing. Oxmoor Auto also provided a 3-year service warranty on the car and car insurance for one year.
"This is an incredible and well-timed story in this week of Thanksgiving," said Tracy Holladay. "Our hope is that the great generosity these businesses have shown will give Stephanie the extra boost and encouragement she needs to continue working hard to create a better life for herself and her daughter," said Tracy Holladay.
View more event photos on Facebook. 

Click the video below to learn more about Stephanie's "Recycled Ride."