As summer 2023 kicked off at The Patch, one camp continued its history of being a fan favorite. Rivers and Reels Camp offers 12 to 15-year-olds an introduction to fishing and some of the best places to do it in Louisville and surrounding areas. For one week, campers pile into The Cabbage Patch's van to navigate a new fishing site each day. This year, campers also got to test their skills in an onsite casting competition, in between their visits to Waverly Park, The Parklands of Floyds Fork, and Harrods Creek.
Rivers and Reels camp means a lot to kids like Michael*, a Patch member who has been enjoying our outdoor themed camps since he was a young child. Now 15, Michael said that Rivers and Reels is his favorite camp overall because it allows him the opportunity to fish, an activity that he loves despite not having his own fishing equipment at home. He said that he likes fishing because it "is interesting and it teaches you a lot of patience."
He was all smiles while fishing with his friends at The Parklands. The group had a very successful visit to the William F. Miles lakes, and a very successful week overall, catching several varieties of Kentucky marine life, including blue gill, smallmouth bass, and Kentucky bass. Everyone caught at least one fish that week, and thanks to the generosity of a local fisherman during one of their excursions, our kids also learned how to clean and cook the catch of the day. The sense of accomplishment was contagious as a camper named Isaac* exclaimed, "I caught five fish today, but a man gave us a big catfish and we got to EAT it!"
Your support ensures that Rivers and Reels Camp continues to be more than just an introduction to one of America's favorite outdoor pastimes; it's also an opportunity for kids like Michael and Isaac to get outside and learn vital life skills that can serve them for years to come. As the old saying goes, "If you give someone a fish, you feed them for a day. If you teach someone to fish, you feed them for a lifetime." Thank you for continuing to feed our kids' minds with life-changing knowledge and experiences.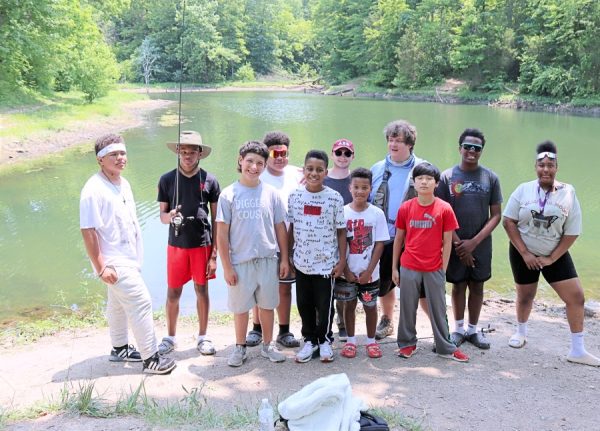 *Names changed to protect the privacy of those we serve.
Follow us on Instagram and Facebook for more stories from The Patch!