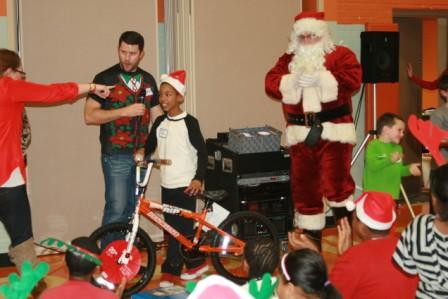 Robert Half International hosted a Christmas Party for 50 of the most active children and youth involved at The Cabbage Patch Settlement House on Tuesday, December 17th.
This was the second year in a row that Robert Half partnered up with The Cabbage Patch to make Christmas brighter for children and youth, some of whom live below the poverty line and do not get to experience Christmas in the traditional sense.
"For many of our clients, Christmas is not the most enjoyable time of year," said William Rasinen, Manager of Recreation/Youth Development Programs at The Cabbage Patch.
Volunteers and staff from Robert Half organized a fun-filled evening that included food from Chick-Fil-A, Papa John's, Pizza Hut, and El Nopal and fun games for every age group. There was even a surprise visit from Santa Claus and the Chick-Fil-A cows.  Several lucky winners were able to walk away with some fabulous raffle prizes that included a karaoke machine, scooters, bicycles, and even a 32″ television! Those who didn't get their name drawn for a raffle prize didn't walk away empty handed: each child at the party received a bag of toys thanks to generous donations from many of Robert Half's many clients.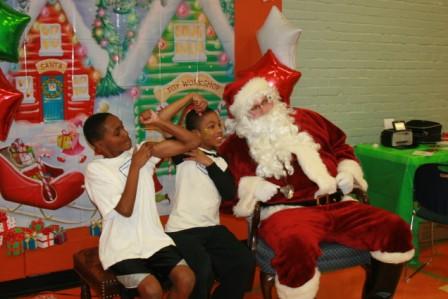 "It is important to our company to give back to our local communities," said Amy Russell, Client Service Director for Robert Half. "The Cabbage Patch Settlement House's mission to equip and empower at-risk children, youth, and their families to be self-sufficient by helping them reach their full potential is one we truly believe in. Hosting a holiday party for the children of The Patch is a wonderful way for our Louisville employees to come together and make the holidays a little brighter for the kids."
"Robert Half was able to leverage their connections and resources to put on a spectacular event for these children," said Rasinen. "The Christmas Party they have organized is far and above what we would be able to do without the time and talent of these volunteers and the resources they bring. They are a blessing to our kids."
Robert Half  & The Cabbage Patch would like to thank the following for their donations of time and resources to make this party possible for the children and youth we serve:
Chik-fil-A, Papa John's, Pizza Hut, El Nopal, Value Market,  GrindMaster, Sterling Thompson, Auto Owners, Conveo, Target, DNR Group, Farm Credit Union, Blitz Manufacturing, Metal Sales Manufacturing, Wal-Mart, The Glass Doctors, Fast Line Credit, Nuplex, and Beam Global.