Sugar and spice and everything nice-that's what our Cabbage Patch girls are made of! During the Sugar and Spice Day Camp, we explored ways that young women can be confident and informed…and we may have even pampered ourselves a little.
Makeovers offered great lessons on how to present oneself in situations like school, job interviews and more. A decadent dinner at Chef Edward Lee's 610 Magnolia included instructions in table etiquette. Baking cupcakes and making lip balm were fun ways to brush up on our math and measuring skills.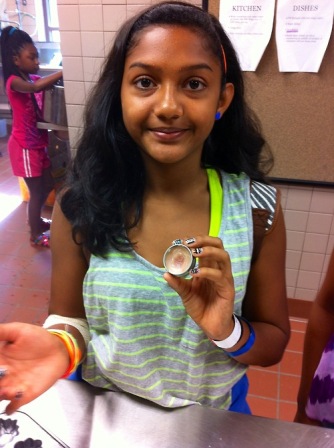 You can try our lip balm project at home! It's a fun activity that kids and parents can do together, and in the end you will have all natural products that make terrific gifts. The supplies are usually found at natural food stores.
Recipe:
20 grams beeswax
20 grams cocoa butter
45 grams almond oil
12 drops grapefruit essential oil
1 tablespoon beet root powder
Melt beeswax, cocoa butter and almond oil together in a sauce pan. Take off heat and add essential oil and beet root powder. Mix well and pour into containers. When it cools you'll have awesome pink tinted lip balm!