At the 2013 Annual Auction, College Scholar Rico Johnson shared his story with us and revealed that he was still struggling with the stress of college life from time to time. Fortunately for Rico, part of The Cabbage Patch's strategy for breaking the cycle of poverty is to support our College Scholars throughout the college experience to ensure their success! Because Rico grew up in a low-income area where college is not a common goal, higher education did not seem like a possibility in his younger years. However, Rico had the forethought to understand that he did not want to be the product of his environment. He told us that he could see three possible outcomes if he didn't seek a different life: prison, death or a life of misery.
"Living in an environment where violence was prevalent and education was ignored, I knew I had to do something different if I wanted to become someone different. With the support and encouragement of The Patch I can finally say I'm on the road to becoming someone different." – Rico Johnson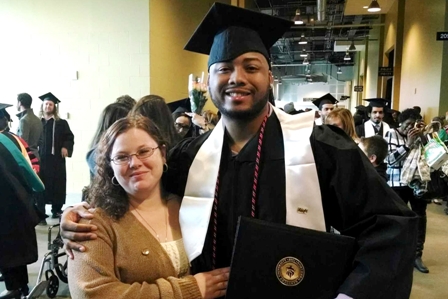 We are proud to announce that Rico, pictured here with Manager of Educational Opportunities Mayghin Levine, has achieved his goal and is the first of his family members to earn a college degree! He graduated with honors from Northern Kentucky University on Dec. 13. Rico's degree, a Bachelor of Arts and Science in Criminal Justice, will help him in his mission to become a juvenile probation officer. He aspires to give troubled adolescents the guidance, encouragement, empowerment and support that he found at The Patch.
Rico may be the first of his family to graduate college, but he won't be the last! His younger brother Shaquille is following his example and pursuing a business degree, and he plans to graduate in May 2015. What a wonderful role model Rico has been for his brother-he is sure to continue this legacy as he works to put juvenile offenders on the right track!