For this year's Annual Auction, our college scholar Daron Peterson gave a wonderful speech that stressed the importance of the role models at The Patch and how we open a world of opportunities for at-risk youth.
If you were not able to join us at this year's event, we hope you will enjoy seeing what Daron had to say about how your support helps young people go further than they ever thought possible. Below is Daron's speech in its entirety.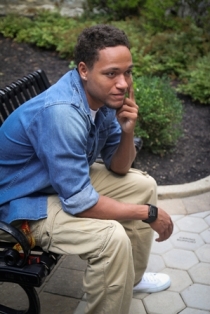 Daron Peterson
Featured College Scholar, 2014 Annual Cabbage Patch Auction
Good evening everyone, I would like to start off by introducing myself and thanking the Lord for this opportunity. My name is Daron Peterson. I've been a member of The Cabbage Patch for about ten years now and none of this would have been possible if it were not for the grace of God to lead my family and me to The Patch years ago and bless us with the wisdom and guidance of its staff members.
I joined The Cabbage Patch when I was 9 years old and my family had just moved to Louisville from our rather tragic situation back in Memphis, Tennessee. Coming from a single parent household and being the 5th child of six, I was far younger than my two older brothers. They were already on the wrong path, I and was left with no male role models in my life, let alone positive ones. Walking into the Cabbage Patch for the first time at 9 years old, I had no idea that it would give me all of that and so much more in the years that followed.
The beginning of my interest in college began with a former staff member by the name of Steven DeGeorge. While he started off as merely my guitar teacher, he became much more. Steven took me under his wing and showed me that I could live a much different life, and he told me that college was the key to achieving that life. Most importantly, he showed me what it truly meant to be a man who took care of and loved his family. I can honestly say Steven DeGeorge and The Cabbage Patch are the primary reasons why I've become the man I am today.
Many years later, thanks to the help of The Cabbage Patch Scholars program, I am the first of my mother's children to graduate from high school and go to college. I am a sophomore at the University of Kentucky. I am majoring in Art Education and have maintained a 3.6 GPA while getting involved with on campus organizations like the Black Student Union, the VIP non violence center, and the Christian Student Fellowship.
I plan to graduate in the spring of semester of 2017 and my target career is to become a high school art teacher for two reasons. One is that I love art of all forms. It is my passion and I feel that it is a form of expression that is needed in not only the lives of students in grade school, but everyone's life. The second is that I've learned from a multitude of Cabbage Patch staff members that I shouldn't use my knowledge, talents and abilities only for the benefit of myself, but for the benefits of others as well. Especially the youth who are in need of guidance and can learn from my example.
I too can change the lives of at risk youth, just as the Cabbage Patch is doing for me. I feel that it is almost a responsibility of mine because there isn't a Cabbage Patch everywhere, but its positive influence can reach far beyond its walls through myself and others who have benefited from the guidance and insight we've been given. I want to be able to pass on that same guidance and insight to at-risk youth while there is still time for them to change the course of their lives and get on the right path, or at least a better one.
I've already taken advantage of opportunities to interact and work with children in summer camps this past summer. Many of the young people I have met and gotten to know would love to have the same opportunities, experiences and help that I have had, and with your continued support, college can become a reality for them too. As I come to a close, I would just like to say that there is a debt of gratitude to you all, from me and the other Cabbage Patch scholars. Together, you all and The Cabbage Patch have changed lives for the better and that is something truly remarkable. I speak for myself, as well as my colleagues, when I say we truly appreciate all that you have done for us, and that we still need your support to succeed. Thank you.