At the Cabbage Patch, we have a team of specialized staff members, and it is their enthusiasm and expertise that make our programs truly unique. Because our teachers are committed to their personal exploration and success, they are wonderful role models for children who want to expand their horizons. Recently, our Recreation and Youth Development Specialist Elizabeth, who designs and runs art programs and camps at The Patch, journeyed to Japan and spent two weeks learning to make different kinds of threads from silk cocoons.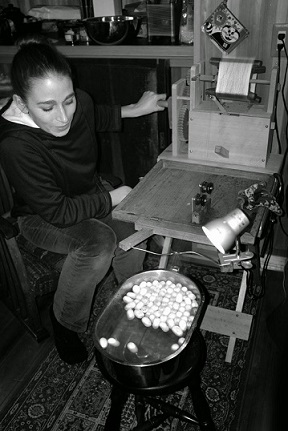 (Photo from Japanese Textile Workshops)
Elizabeth's enthusiasm for textiles has inspired several projects for the young artists at The Patch. In 2014, art program participants worked with The Little Loomhouse to create textile arts in the Navajo, Ojibwe and Kentucky quilt and coverlet traditions. The resulting exhibition, Working Hands: A Modern Generation Explores the Ancient Craft of Textiles, was part of Wall Together, a project that partners The Speed Art Museum with local art organizations or non-profits to engage community participation through art.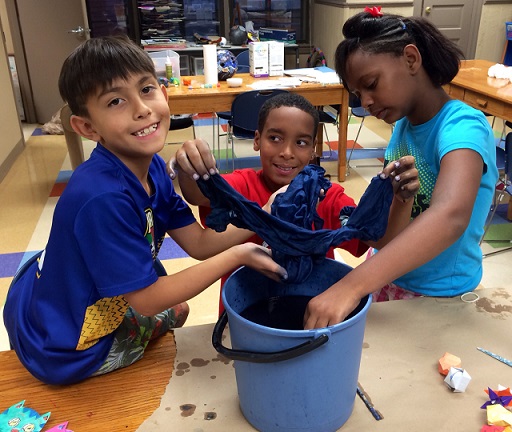 Continuing in the tradition of bringing quality creative programming to at-risk children, Elizabeth plans to use what she learned in Japan to teach the children at The Cabbage Patch how to reel, spin and dye silk. The art program participants previously got a feel for the natural dye process when they used indigo on their quilt pieces for the Speed exhibition, and the silk workshops will help them explore other natural dyes. Elizabeth assisted in a similar workshop at a Waldorf recreation center while in Japan, and she hopes to help The Patch children practice the patience and focus that she saw in the children at that community center. Now we wait for the silk reeler to arrive from Japan!