After the passing of Muhammad Ali, one of Louisville's most famous icons, children at The Patch learned about and reflected on the local hero's life. Those children who have been to the Muhammad Ali Center as part of The Patch's field trips and summer camps had drawn inspiration from Ali's six core principles: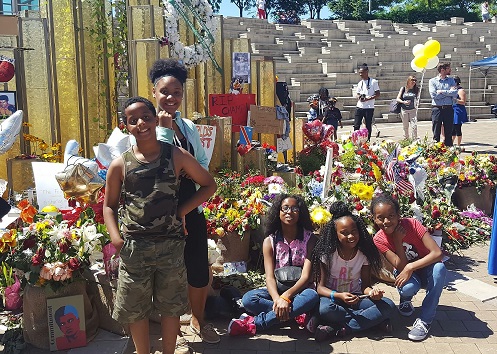 Confidence: Belief  in oneself, one's abilities, and one's future.
Conviction: A firm belief that gives one the courage to stand behind that belief, despite pressure to do otherwise.
Dedication: The act of devoting all of one's energy, effort, and abilities to a certain task.
Giving: To present voluntarily without expecting something in return.
Respect: Esteem for, or a sense of the worth or excellence of, oneself and others.
Spirituality: A sense of awe, reverence, and inner peace inspired by a connection to all of creation and/or that which is greater than oneself.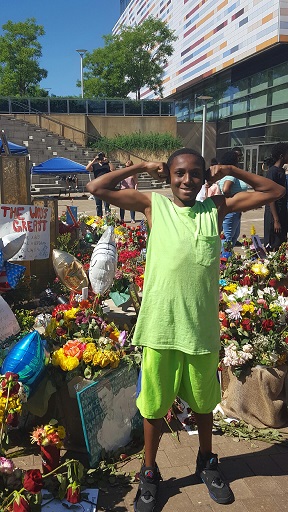 The funeral procession for Ali followed a route that was near The Cabbage Patch, and Recreation and Youth Development Specialist Jamayle West knew it was a historic event that the children of The Patch should experience. At first no one knew what to expect…how many people would be there? Would we be filled with emotion, or was it just another hot summer day? But as the procession got closer and the crowd got bigger the energy was profound. The streets were filled with people, some holding signs, others with boxing gloves, and everyone, including the children of The Patch, chanted Ali-Ali-Ali. It was a beautiful display of the Louisville community coming together, and that display of unity was broadcasted all over the world. After Jamayle returned to The Patch with the group, all he heard was "I want to be the greatest." Whether it is in athletics, education or community service, The Patch strives to help every child be "the greatest." The legacy of Muhammad Ali shows children that with hard work, anything is possible.