Upcoming Event
Wednesday, April 18, 2018
Mellwood Arts & Entertainment Center
1860 Mellwood Ave., Louisville, KY 40206
5:00 pm – 9:30 pm
We want to thank Delta Dental for sponsoring another successful Putt fore The Patch!
Thanks to all our sponsors, participants, and guests who made Putt fore the Patch 2017 a huge success!!
Relive the memories by searching #puttforethepatch and #makingsmileshappen on Twitter, Facebook, and Instagram.
At Putt fore The Patch, we tee up to make a difference in the lives of Louisville's at-risk children!
Congratulations to the 2017 Putt fore The Patch Champions:
1st Place Flight #1:  UPS – Players: Danny Torcan, Eric Streigher, Adam Haverly, Bob Grieco
Score: 149
1st Place Flight #2: Team Staples- Players: Chris Staples, Rob Crady, Yano Torma, Jeremy Gerch
Score: 151
1st Place Flight #3: Cardinal Carryor- Players: Roger Just, Shane Burris, Jeff Van Pelt, Doug Brumlove
Score: 150
Overall Champion Player: Steven Henderson of Stites & Harbison – Score: 34
Overall Team Champions: UPS – Score 149
And…Congratulations to Grant Adams, winner of the Apple Store Raffle!!  He won a $1000 shopping spree at the Apple store.
At Putt fore The Patch, we tee up to make a difference in the lives of Louisville's at-risk children!
Putt fore The Patch is a unique 18-hole indoor miniature golf tournament that raises funds to support The Cabbage Patch's programs, including summer camps, music and art programs, tutoring and college preparation services. This exciting fundraiser is brought to you by Title Sponsor Delta Dental of Kentucky!
Special thanks to the many volunteers who ran games, setup and tore down, caddied, served food, and more!
If you couldn't attend, watch this video to see how much fun was had by all.
Just some of our 2017 Putt fore The Patch company sponsors!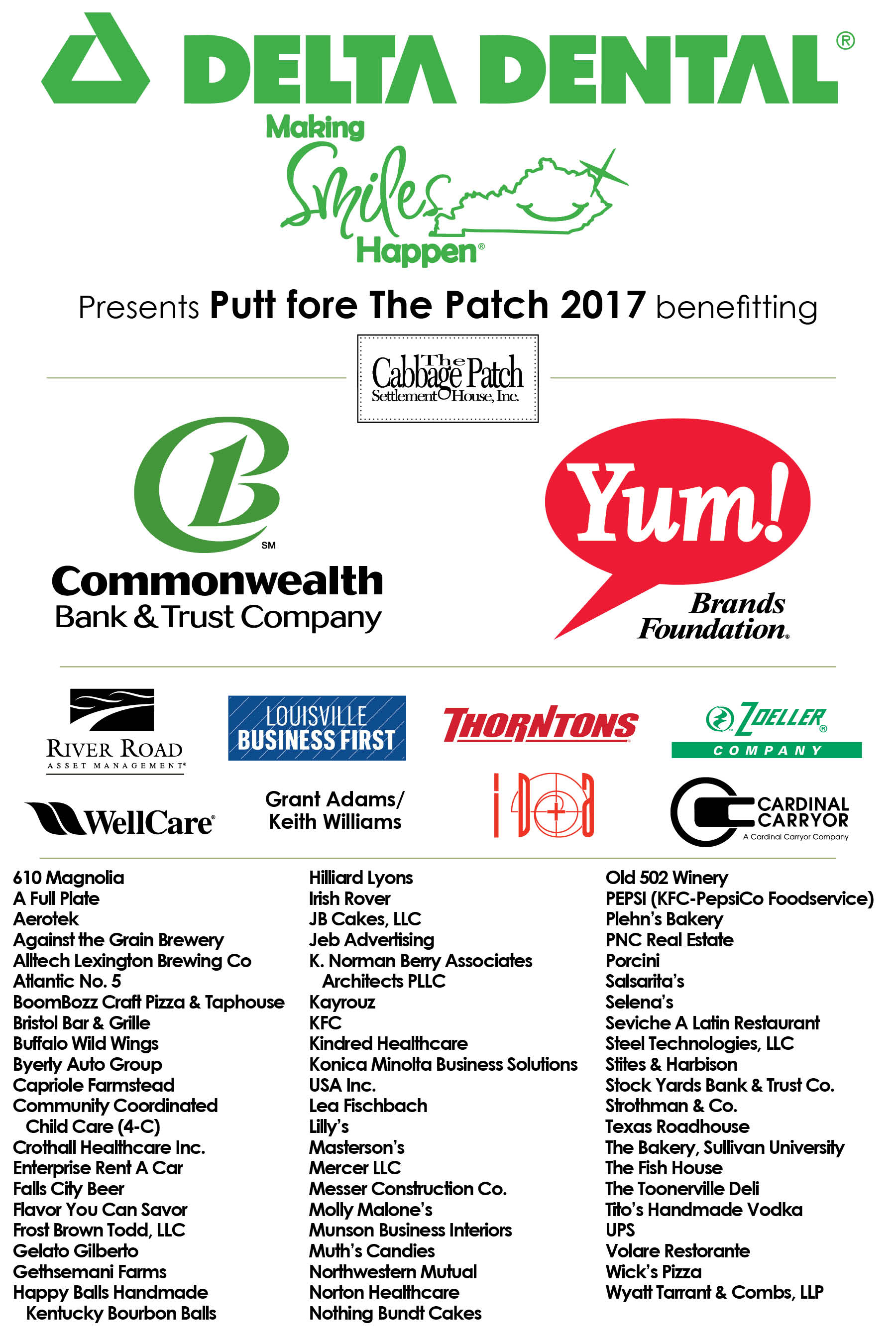 The Cabbage Patch Settlement House invites you to tee up and take a swing at the Fifth Annual Putt fore The Patch miniature golf tournament! .
Get ready for all-out fun on our unique 18-hole putt putt course, created just for this event inside the Mellwood Arts and Entertainment Center. The evening begins with cocktails and appetizers from local chefs, and includes chances to win individual prizes and team awards.
Don't miss this opportunity to test your skills on the course while benefiting a great cause. Your participation will have a life-changing impact on the lives of at-risk children and families served by The Cabbage Patch.
Your support does more than make a tax-deductible contribution to a meaningful cause: you guarantee opportunities for Patch youth in our community.
About The Cabbage Patch
The Cabbage Patch Settlement House is a local, non-profit Christian organization. Our mission is to equip and empower at-risk children, youth, and their families, to be self-sufficient by helping them maximize their economic, educational, emotional, moral, physical, social and spiritual potential.
See photos from last year's Putt fore The Patch on Facebook.